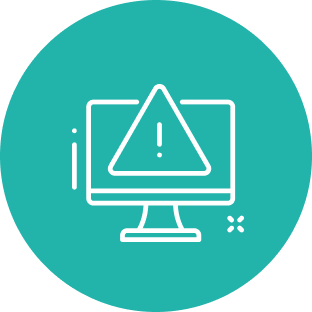 Protect
from the worst
of the web
Schools and kura across Aotearoa are able to access a suite of fully funded safety and security services to help protect you and your ākonga online. We combine our security solutions with people power and expertise to give you the confidence you need.
Built in protection
A strong foundation of built-in protection.
Proactive detection
Proactive detection to identify vulnerabilities and to stop threats in their tracks.
Expert guidance
Expert guidance to help improve your security posture or to resolve or mitigate threats.
Safety & Security Solutions
From filtering, firewall and DDoS protection to email security, remote access and segmented networks, our safety and security solutions will help keep your school, staff and ākonga safe online.
Our dedicated security team proactively monitor our networks and systems, provide notifications of threats and vulnerabilities, identify opportunities for improvements, and work with schools to help resolve or mitigate incidents.
"The best learning will happen in an environment that is protected from the worst of the web and free from content that is inappropriate and distracting."
Nicola Ngarewa
Principal of Spotswood College
Switch on Safety
When ākonga learn from home, it's important to make sure they stay safe online. We have a free filter for whanāu to use to block the worst of the web at home.
There's no way to guarantee 100% protection from inappropriate content or online threats, as both the threat landscape and technology solutions are constantly evolving. It's a team effort – our team is here to support schools and kura, who also have a part to play in taking the necessary steps to ensure a strong cybersecurity posture, such as promoting digital citizenship and making sure systems and software are up to date.
We recommend exploring additional measures to help keep your school's online learning environment safe and secure. Netsafe has a large suite of helpful resources for schools and kura, written for both students and teachers, on topics such as digital citizenship and planning. CERT NZ also has practical information to keep your school network secure, like making sure your software is up to date. And the Ministry of Education suggests some important actions to help strengthen cybersecurity and reduce risks to schools. To find out more about who to contact when, check out our flyer.
You can also check out the DIA's Keep It Real website. It provides information on tools and resources for educators, parents and youth on a range of online harms such as pornography, bullying, relationships, grooming and misinformation.
Keeping our tamariki safe online
Hear how three schools across Aotearoa are using N4L's Safe & Secure internet to help protect their students online. When you limit distractions and prevent online threats and harmful content, students can learn more independently. Listen to their story here.
Resolving email security issues with expert support
When an Auckland College experienced a security incident, our team of experts were on hand to help. Watch Kelston Girls College's story and understand how Email Protection can help protect your school.
Giving your school a more secure and personalised network
Watch our video about how Amberley school and their assigned IT partner, Smart Computer Systems, describe the value and benefits Secure Access provides for their students and staff.
Next up: Learn how we can support you every step of the way.